By Eric Heyer
Will France be the new Greece, as The Economist has argued? Should French reforms be accelerated and be modelled on those implemented in Germany ten years ago? For German public opinion, for its authorities and for a large number of economic experts, the answer is obvious. Not only does Germany have a lower deficit, but unlike its French neighbour it has also managed to significantly reduce its unemployment rate. Starting from a similar level in the early 2000s (close to 7.7% at end 2001), the unemployment rate now stands at 5.4% of the labour force in Germany, 4.5 percentage points below the level in France (Figure 1).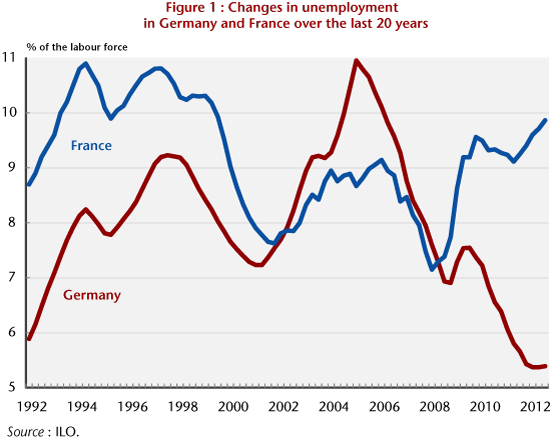 The purpose of this note is not to revisit the reasons for this difference, which have already been the subject of posts on this blog (see in particular the impact of demography, by G. Cornilleau, of the reduction in working hours, by E. Heyer and M. Plane, and of the rise in male-female inequalities, by H. Périvier). The point rather is simply to note that the reduction of unemployment in Germany has been accompanied by a steep rise in poverty.
According to Eurostat, over the past six years the poverty rate (measured at the threshold of 60% of median income) has risen by 3.6 percentage points in Germany, four times more than the rise observed in France (0.9 point). In 2011, despite the sharp drop in unemployment and the large differential with France, the poverty rate in Germany was 1.8 points higher than the level observed in France, i.e. a difference of over 11% (Figures 2 & 3).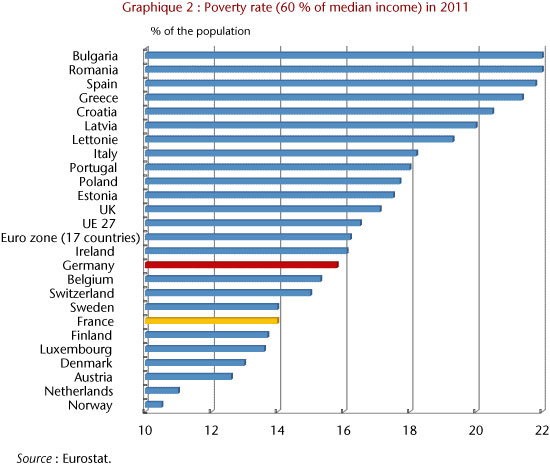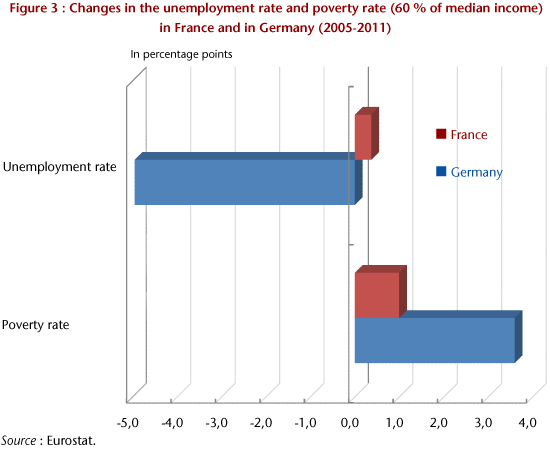 There is, therefore, a hidden side to the reforms implemented in Germany over the past ten years, which have led to lower unemployment but greater poverty.